TaskBadges v0.2 works with todotxt.com and TaskPaper style todo lists
A new version of the free utility app TaskBadges is available. In addition to the square brackets style, you can now add Finder badges with the number of open tasks to files generated by these two plain-text task management apps:
todotxt.com - (website) - Collection of shell scripts to manage your tasks from the command line
TaskPaper - (website) - Did this one start it all? No idea, but its a pleasure to use!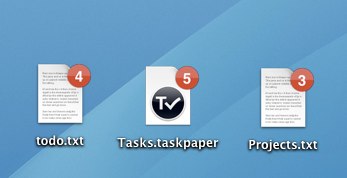 Below are examples of the new task list styles.
todotxt.com style
An open task is simply a line of text
x Completed tasks start with 'x' or 'X'
x That simple
TaskPaper style
Can include notes like this. - Open tasks start with a single dash - Completed tasks contain the @done tag
Square brackets style (since v0.1)
- [ ] An open task
- [x] A completed task
You can download TaskBadges here.