New TaskBadges version: access your todo lists from the menubar
"Towards more usefulness" is the theme for TaskBadges v0.3 beta (download link). With this version you can now access your todo lists right from the new menubar icon:

TaskBadges also got a fancy On/Off switch so you'll always know when your task list icons are being updated. Also, if you activate TaskBadges it will launch automatically when you log in to your Mac.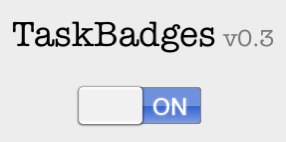 Last but not least, at the bottom of the main window you will find a small notification area that occasionally shows updates from the blog or news about other Kitestack apps (such as the awesome DesktopShelves).