DesktopShelves 1.3.1 released
The DesktopShelves sale on MacUpdate promo was a huge success and I've taken a little bit of time to make some usability improvements, fix one case where the app could crash (thanks Chuck for the crash log!) and added a new feature: opening recently closed shelves.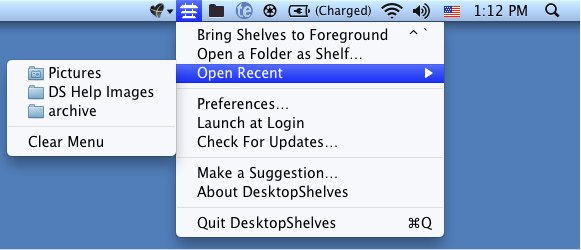 Here is the full list of changes:
Re-open recently closed shelves from the menubar icon
Renamed menu "Reveal in Finder" to "Show in Finder"
Renamed preference "Activate/deactivate" to "Shelves in foreground/background"
Lion only: no need to log out/log in to activate Finder integration
Lion only: shelves don't participate in Mission Control anymore
Added error messages when dropping a file on a shelf is not allowed
Warning if web and Mac App Store versions are installed at the same time
Launching the app a second time in Finder or the Dock toggles the shelves
Renamed menu "Remove Shelf" to "Close Shelf"
Now accepting license keys with accidental spaces
Addressed issue that could lead to a crash when opening a very large folder as shelf
How do I update DesktopShelves?
If you purchased DesktopShelves through the Mac App Store: launch the App Store and check the toolbar under "Updates".
If you downloaded DesktopShelves from the website: click on the DesktopShelves icon in the menubar (or bring up the shelf context menu) and select Check for Updates...
If you do not have the app installed, you can download DesktopShelves here.