Create your own shelf designs + 1 day 47% discount on MacUpdate.com
DesktopShelves 1.3 has arrived and with it the ability to design and use your own shelves! A few people have already done so and shared their designs in the Shelf Design Gallery. Below are a few examples of shelves designed by users that you can download and use.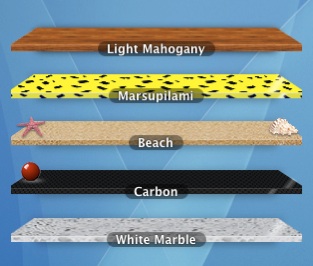 If you'd like to get started creating your own, take a look at the Custom Shelf Designs Tutorial.
Today only: DesktopShelves featured on MacUpdate - save 47%
DesktopShelves is featured on MacUpdate Promo today with a 47% discount on the regular price. Head over to mupromo.com to not miss out on this offer.
How do I update DesktopShelves?
Click on the DesktopShelves icon in the menubar (or bring up the shelf context menu) and select Check for Updates...
If you do not have the app installed, you can download DesktopShelves here.